Share capital structure
The Company has more than 400,000 shareholders. The Russian Federation, represented by the Federal Agency for State Property Management (Rosimushchestvo), which owns 79.55% of the share capital, is the largest shareholder.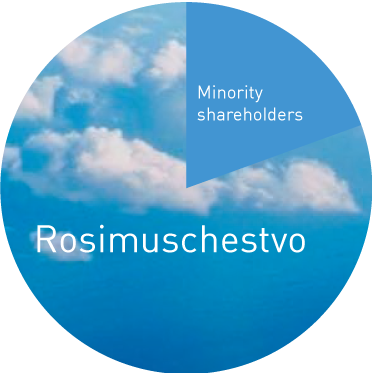 For the purpose of improving interactions with shareholders, the Company analyzed the list of its shareholders, identifying key shareholder groups, holders of ordinary shares and depository receipts. The Company's free float stood at 20.45%. The main minority shareholders of the Company are institutional investors and holding structures, with retail investors accounting for 2.14%.
The Company's largest minority shareholders, owning more than 1% of Federal Grid Company shares, are:
— Tsentrenergokholding (2.6534%);
— Rusenergo Fund Limited (1.6922%) – Russia's largest fund in the energy sector, whose funds are invested in stocks of Russian electricity generators and electric grid companies;
— Sberbank of Russia (1.1252%) – a professional securities market participant that deals with securities of the most reliable and investment-attractive issuers;
— Index of Energy FGC UES (1.0891%)
20% of the Company's free float includes: foreign institutional investors, such as major funds focused primarily on Russia, whose assets under management exceed USD 1 billion: Market Vectors ETF Trust Russia ETF (USD 1.8 billion), the East Capital Russian Fund (USD 1.5 billion), Swedbank Robur (USD 1.2 billion), and BlackRock funds.
Investor Breakdown by Geography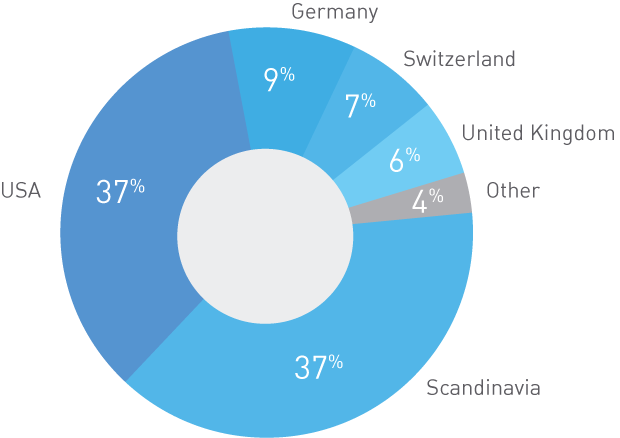 As before, American and Scandinavian shareholders account for the largest share (37%) of foreign investments.
The Company's shareholders are predominantly long-term investors, with low portfolio turnover, and holdings that (on average) exceed two years.
Investor Breakdown by Investment Horizons